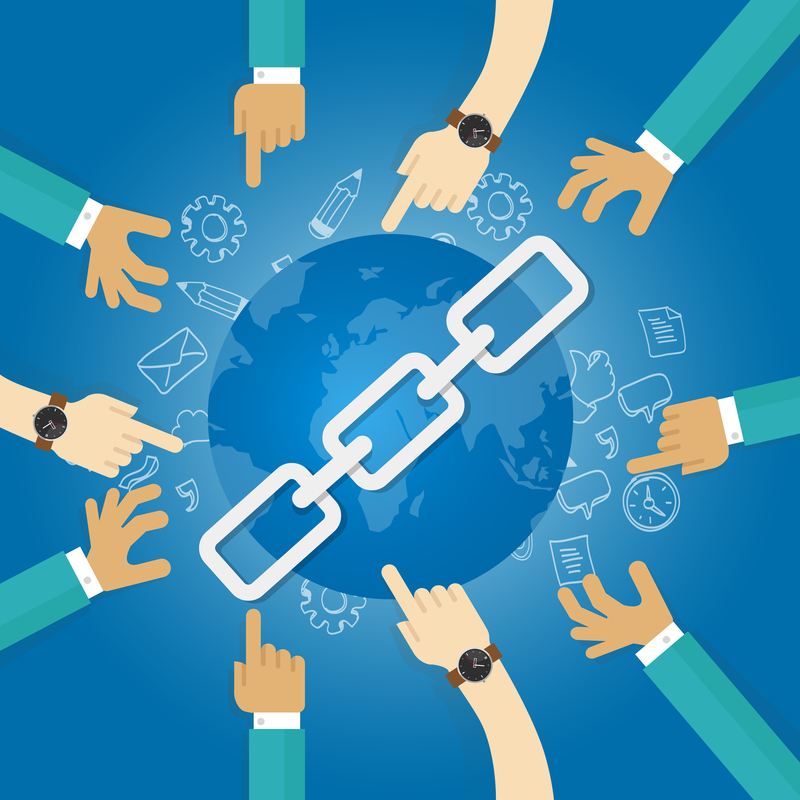 Looking to get even more traffic on your blog or website? Do you want to be an SEO expert with plenty of organic links to your content? Then it's time to read on and learn all about backlinking!
Simply put, backlinks are incoming links to a webpage. However, backlinking isn't as simple as that. Ever since Google rolled out its Penguin algorithm, backlinking has undergone some drastic changes. Before, backlinks played an integral role in measuring the ranking of a web page. Pages with many backlinks would usually rank higher on all the major search engines; of course, having a lot of backlinks, today, is not a bad thing but now the major search engines are cracking down on low-quality backlinks. It is important to have backlinks from quality sites, which actually make sense for your content. For instance, if you have a site about  cars, and you are creating links from other niche sites about gardening, these links will not be helpful in your ranking. Your aim should always be to obtain links from relevant and credible sites.
Sadly, building quality backlinks can be costly and time-consuming. But you've come to the right place for learning how to overcome these two issues and make the most of every backlink.
To accomplish this goal, ensure that your website is technically optimized, that it has a strong site architecture and overall, that your content is valuable.
If your site experiences too many technical errors your user's will not enjoy their experience. When the user experience is affected negatively Google limits your organic traffic growth.
In order to technically optimize your site be on the lookout for these problems:
Visit our article on Money Making WordPress Plugins the Pros Use  for plugins, which will help detect and eradicate most of these issues, like incorrect uses of directives, 302 redirects, redirect chains, canonical errors, 404 errors and duplicate META data.
Site architecture is not only how link equity gets distributed through your site but the better your site architecture is, the less backlinks you will need.
When it comes to SEO you should aim to use the "silo" model. As quora states, "Siloing a website means grouping related pages together, either structurally or through linking, to establish the site's keyword-based themes" Silos are content taxonomies and linking structures that help to index your content, distribute link juice, add additional relevancy signals and push up rankings."
For example, Robert Holland, Founder of Bipper Media,  explains, "let's say you are a law firm that specializes in criminal defense and personal injury law.  You could proceed to build a "silo" for each of those practice areas – a "criminal defense silo" and a "personal injury silo".  This would be achieved by linking all criminal defense related pages up to the top level criminal defense page, and linking all of the personal injury related pages up to the top level personal injury page. In essence creating virtual silos within your website.
The SEO benefit comes from the tightly knit pages of content around particular topics, which builds "topical authority" and transcribes into authority (rankings in Google) for keyword phrases related to your silors."
Despite, an error free site with tightly knit pages or the best backlinking strategy, your website or blog will never rank high without amazing, valuable content. So whatever you do, care about your content and you will make it much easier to obtain quality backlinks and rank high on the major search engines.
Now let's take a look at 5 rules for quality backlinks:
1. Relevancy is Key
Relevant backlinks are one of the most important benchmarks for effective link acquisition.
Google determines what is relevant based on these three things:
The general content "theme" of the linking domain
The content on the linking page
The relevancy of the backlinks hitting the domain
2.  Use Authority Sites
The more credible and trustworthy the site, the better the results.
So it is important to use third party metrics to analyze your best links, now that  Google doesn't update PageRank anymore.
Tools like the ones below are very good for link analysis:
3. Concentrate on Real Websites With Real Traffic
These backlinks are among some of the hardest to obtain but are also the most rewarding and getting backlinks from sites with real traffic is a good way to ensure your page is tier one.
In order to determine the exact traffic data of a site use tools like SEM Rush to read a sites analytics.
4. Be Smart about How you Distribute Your Anchor Text
First, if you distribute your anchor text poorly it will hinder your site from ranking. Second and most importantly, aggressive anchor text could actually have your site penalized.
So, aim to keep your exact match anchor text below 1% with the majority of your anchor text branded or as naked link anchors.
5. Focus on Backlinks from Sites that have High Standards.
Take an in depth look at every potential website and ask yourself:
What are they linking out to?
Are the outbound links relevant?
Are the outbound links going to credible, authoritative sites?
Avoid things like "viagra" or "casino" and do not let that site backlink to your content.
On that note, let's take a look at what backlinks should NEVER be used for a tier one website. As it is a fact that these backlinks could cause a manual or algorithmic penalty.
Anything Irrelevant
We can't stress this enough, relevancy is a major key to helping your backlinks improve your ranking! Ensure a wall of relevancy around your site.
Avoid "Private Blog Networks"
You might often see networks that advertise their service as "private blog networks," however, that's a lie because once you advertise a network, it becomes public, not private.
These networks are used for people to easily purchase backlinks but throughout Google's lifetime, it has gone out of its way to smash public networks and destroy every website that uses them. So don't do it!
As Nathan Gotch, founder and CEO of Gotch SEO Academy, explains:
"It's easy for Google to spot these networks because:
A) there are an excessive amount of outbound links (typically 25-50+) on the homepage: homepages on REAL websites don't have a ridiculous amount of outbound links on the homepage.
B) the outbound links are completely irrelevant to each other: there will be links going to gambling sites, SEO sites, fitness sites, etc. It doesn't make any sense.
C) the content for each post is thin (only 250-300 words): Google's Panda algorithm hates thin content.
D) you can run, but you can't hide: some networks will attempt to block Ahrefs and Majestic crawlers, but its actually a footprint. On the other hand, networks that don't block crawlers will likely get reported to Google because of an angry competitor. It's a lose-lose situation."
Stay Away from DoFollow Blog Comments
Although dofollow blog comments are some of the cheapest backlinks you can purchase, they go in direct opposition to rule number 5 for quality backlinks. They use large amounts of outbound links, irrelevant links and outbound links to sketchy sites such as gambling, pharma, porn, etc.)
Sidebar and Footer Backlinks
These links are almost always site-wide links and could destroy your site and ruin your anchor text profile if you are using a keyword-rich anchor text. However, many web designers, marketing companies, and web hosting companies love footer backlinks. But if you are going to use them it is highly suggested to use them with branded anchor text.
Yet there is one exception to this rule: manipulating the code so that your link only shows on the homepage (where the majority of a site's authority lives). You can employ the help of plugins such as, WordPress'  Restrict Widgets plugin to accomplish this. But please note using sidebar and footer backlinks is risky!
Automated Backlinks
It's a good idea to steer clear of automated link building tools for quality backlinks. Some of these softwares include GSA, Ultimate Demon, and SENuke, which leverage spammed platforms and will likely land your website a penalty.
For some steps you can take on how to start obtaining quality backlinks see section 3 of our article on White Hat Seo Tips for Beginners.
Lastly, take a look at the definitions below of frequent terms related to backlinks from Harsh Agrawal at Shout Me Loud blog:
Link Juice: When a webpage links to any of your content or your homepage, it passes "link juice". Link juice is used to help with the ranking of the article, and also improves the domain authority. You may disable the passing of link juice,as a blogger, by using a no-follow tag.
No-Follow Link: When a website links to another website, but the link has a no-follow tag, that link does not pass link juice. No-follow links are not useful concerning the ranking of a page as they do not contribute anything. In general, a webmaster uses the no-follow tag when he/she is linking out to an unreliable site. Example: Links from comments on other blogs.
Do-Follow Link: By default, all the links that you add into a blog post are do-follow links, and these pass link juice.
Linking Root Domains: This refers to the number of backlinks coming into your website from a unique domain. Even if a website has linked to your website ten times, it will only be considered as one linked root domain.
Low-Quality Links: Low-quality links are links that come from harvested sites, automated sites, spam sites, or even porn sites. Such links do far more harm than good. This is one reason you should be careful when buying backlinks.
Internal Links: Links that are going from one page to another within the same domain are called internal links. The process itself is referred to as internal linking or interlinking.
Anchor Text: Text that is used for hyperlinks is called anchor text. Anchor text backlinks work great when you are trying to rank for particular keywords.
So now that you have a great understanding of how backlinks work to improve your site's ranking, what makes a quality backlink and how to avoid sketchy backlinks, what are you waiting for? Get out there and start driving traffic to your page with improved rankings from your organic, high quality backlinks!
Sources:
https://www.quora.com/What-is-SILO-in-SEO
https://www.shoutmeloud.com/backlink.html
https://www.gotchseo.com/backlinks/

Copyright secured by Digiprove © 2018 Jessica Zeitz

A natural born writer, Jessica started journaling from the age of seven, following her passion in school with a diploma in English literature and a bachelor's degree in Communications. After graduation, she spent a year traveling South-East Asia and discovered the world of remote work where she was able to combine her love of travel and writing by freelancing. When she isn't writing or dreaming up her next destination Jessica enjoys pickling and poetry.

Latest posts by Jessica Zeitz (see all)